Netflix ha confermato la produzione di una stagione 2 per Fate the Winx Saga, nonostante il rinnovo sembrava essere più che scontato. Cerchiamo, dunque, di raccogliere tutte le informazioni attualmente disponibili sui nuovi episodi della serie live action: anticipazioni sulla trama, sulla data di uscita, sulle nuove aggiunte al cast e sullo streaming.
Fate The Winx Saga 2 stagione news
Scopri di più sul mio nuovo romanzo: Se fosse una commedia romantica!
A metà febbraio 2021, Netflix ha comunicato il rinnovo di Fate the Winx Saga, rilasciando un breve video-annuncio. Anticipatamente, però, era stato ancora un volta What's On Netflix a portarci delle novità.
Stando al sito, per Fate the Winx Saga era già stata ufficiosamente confermata una stagione 2 prima che la piattaforma si esponesse apertamente.
Entra nel canale ufficiale WhatsApp di Daninseries
Seguimi sul mio profilo ufficiale Instagram
La notizia risaliva a luglio 2020. In quella stessa occasione WON aveva comunicato anche del rinnovo di Ozark 4 e Warrior Nun 2, entrambi poi confermati di lì a pochi mesi.
Clicca qui per unirti al canale ufficiale whatsapp di Daninseries: tutte le news in un unico posto sempre con te.
Questo dettaglio ci faceva dunque ben sperare su un futuro simile anche per la serie TV in questione, nei confronti della quale pareva sin da subito che Netflix avesse aspettative importanti. Stiamo, infatti, parlando dell'adattamento di uno dei titoli più longevi di Nickelodeon.
Quando esce Fate The Winx Saga 2 stagione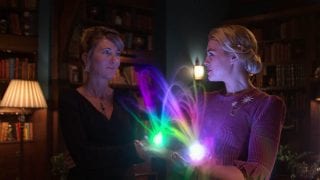 A questo punto sarete curiosi di sapere quando esce la stagione 2 di Fate the Winx Saga. Netflix ha rivelato la data di uscita a fine luglio, condividendo un video annuncio con gli attori del cast. Il debutto è avvenuto il 16 settembre 2022.
Quando è possibile la Grande N cerca di mantenere una distanza di circa un anno tra il rilascio di una stagione e l'altra. In questo caso, però, come avrete letto, trascorrerà un tempo maggiore.
Le riprese sono partite nella seconda metà di luglio 2021, in Irlanda, e si sono protratte fino ai primi di novembre. La fase di post-produzione ha richiesto parecchio tempo, dato l'utilizzo massiccio di effetti speciali.
Ovviamente, trattandosi di uno show di Netflix, nel giorno indicato la piattaforma accoglierà in blocco tutti gli episodi.
Anticipazioni sulla trama
Nell'attesa del nuovo ciclo, dal 22 gennaio 2021 possiamo vedere i sei episodi della prima stagione, che si concludono con un finale sconvolgente. Rosalind, liberata da Bloom, uccide la preside della scuola e ne prende il posto.
Nel corso della stagione 2 di Fate the Winx Saga, dovremmo vedere le giovani protagoniste interfacciarsi con lei, le cui intenzioni restano ancora sconosciute, ed anche con nuovi personaggi, tra cui qualcuno di molto atteso… Inoltre Bloom ha sbloccato dei nuovi poteri, che dovrà gestire.
Secondo la trama ufficiale, a scuola sono ricominciati i corsi sotto l'autorità temporanea della ex preside di Alfea, Rosalind. Con la minaccia dei Bruciati svanita, con la scomparsa della Dowling e con Silva in prigione per tradimento, Alfea si è arricchita di una nuova magia, nuovi amori e nuovi volti.
Ma quando alcune fate iniziano a scomparire nella notte, Bloom e le sue amiche scoprono una pericolosa minaccia in agguato nell'ombra, l'ennesimo pericolo che dovranno sconfiggere prima che devasti l'intero Oltre Mondo.
Cast, attori e personaggi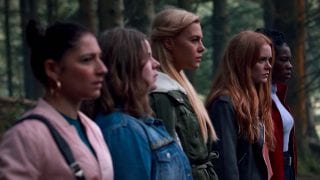 La stagione 2 di Fate the Winx Saga rivedrà in scena tutte le protagoniste. Stiamo parlando di Abigail Cowen, nei panni di Bloom, Hannah van der Westhuysen in quelli di Stella, Precious Mustapha che riporta in scena Aisha, Elisha Applebaum nelle vesti di Musa ed Eliot Salt in quelle di Terra. Al loro fianco, poi, dovremmo ritrovare anche i seguenti attori con i rispettivi personaggi:
Nel cast della seconda stagione 2 teoricamente non dovrebbe esserci più spazio, invece, per Eve Best (attualmente su Sky in House of the Dragon), la cui Farah Dowling è stata uccisa a fine season 1. La certezza assoluta, tuttavia, ancora non la abbiamo, dato che hanno iniziato a girare alcune teorie.
Inoltre, faremo la conoscenza di tre nuovi personaggi, prima fra tutti l'attesissima Flora, la cui assenza nei primi episodi aveva creato un certo trambusto tra i fan. Paulina Chávez è stata scelta per il ruolo.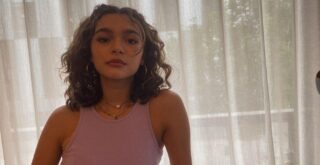 Tra le new entry del cast anche Brandon Grace nei panni di Grey e Éanna Hardwicke in quelli di Sebastian. Su tutti e tre non disponiamo ancora di informazioni, anche se Flora sappiamo essere la cugina di Terra.
Nello spin-off di Winx Club, ovvero World of Winx, c'è un Sebastian, ma non è chiaro se sarà lo stesso personaggio introdotto in questa stagione 2.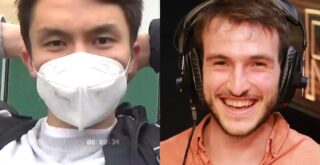 La serie TV è una produzione Archery Pictures, Cinesite, Rainbow S.p.A., Viacom International Media Networks (VIMN) e Wild Atlantic Pictures.
Numero e durata degli episodi
La prima stagione ha debuttato con un totale di sei episodi, cifra che piano piano sta diventando sempre più popolare per Netflix, sebbene per la maggior parte delle proprie produzioni opti per gli 8/10.
Per il nuovo capitolo, invece, il servizio ha scelto di aggiungerne uno, arrivando ai 7. In prossimità del debutto conosceremo poi tutti i titoli.
Primo episodio Fate the Winx Saga 2×01 streaming: Low-Flying Panic Attack
Secondo episodio Fate the Winx Saga 2×02 streaming: Taken by the Wind
Terzo episodio Fate the Winx Saga 2×03 streaming: Your Newfound Popularity
Quarto episodio Fate the Winx Saga 2×04 streaming: An Hour Before the Devil
Quinto episodio Fate the Winx Saga 2×05 streaming: Are You a Good Witch or a Bad Witch?
Sesto episodio Fate the Winx Saga 2×06 streaming: Poor Unfortunate Souls
Settimo episodio Fate the Winx Saga 2×07 streaming: All the Wild Witches
Fate The Winx Saga 2 streaming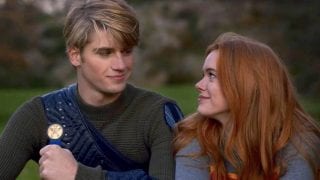 Per quanto riguarda l'ambito streaming, trattandosi di un titolo originale della piattaforma, la visione online è l'unica alternativa esistente per poter assistere alle prossime avventure delle protagoniste. Tutto ciò che serve è un abbonamento al servizio.
Purtroppo Netflix non mette più a disposizione il mese di prova gratuito in Italia. Di conseguenza per vedere lo show in streaming, compresa la stagione 2 di Fate the Winx Saga, dovrete per forza attivare una sottoscrizione, scegliendo uno dei piani che la piattaforma prevede. Il costo va dagli 8 ai 18 euro.
Trailer e video
Sfortunatamente siamo ancora sprovvisti del trailer di Fate the Winx Saga 2. Dopo un piccolo sneak peek in cui ci viene mostrata Flora per la prima volta, il 23 agosto è stato rilasciato il trailer ufficiale esteso. Potete vedere i video QUI.